For The Candidate:
Thanks for choosing AGRI-associates Omaha to assist you in your job search. My office is part of a group of 13 offices throughout the US. By registering with the Omaha office, you have access to all of our jobs in every geographic area.
We specialize in the Agriculture and Food sectors. Most of our jobs require at least two years of experience.
Whether you just came upon the site, saw my advertising, or are applying for a specific job, to begin working with you, I need you to do three things:
1) Fill out and submit a Confidential Resume form. This not only gets you into our database, where you will be seen by all of our offices, it provides data that we send to the potential employer. Be sure to complete the entire form. It should take only 3 minutes. Where the form asks for your "Title and Responsibilities" of your last three jobs, just put your title; the responsibilities part is on your resume. Leave the "Code" space blank.
2) Send me your resume as a Word attachment. Be sure to include all dates of employment and all dates of graduation. Be sure that in the description of your job it is clear what product you were producing or service you were providing.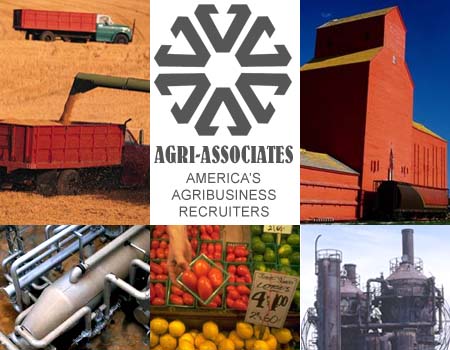 For The Employer:
AGRI-associates was the first firm to specialize in the Agriculture and Food sectors. We have been in business since 1969.
We work on a contingency basis. You pay nothing until you hire a candidate that we present.
We offer a 60-day guarantee.
When you contact the Omaha office with a job to fill, we will discuss your needs in depth, getting a description of your ideal candidate. We will gather all the information about the job and post it to our in-house website.
At that time all thirteen offices will begin to search their databases and search the industry for the right candidate. Typically, we will email you information on 2 to 5 qualified individuals within 10 days.
We will then arrange a phone interview. If you have continued interest in the candidate we can schedule all travel and personal interview arrangements if desired.
Please give me a call anytime. I can be reached as late as 10 PM Central Time every day.
I look forward to working with you to find the candidates that will add value to your company.
3) View U.S. Job Openings. If you find one of interest to you, contact me and be sure to include the job number.
Once I receive your resume and verify that you have submitted a Confidential Resume form, I will contact you. If you do not hear from me, please feel free to call anytime. I can be reached as late as 10 PM Central Time.
I look forward to helping you find the right employment. If you have any questions please email or call anytime. Good luck with your job search.

Omaha, NE Office
Eric Watts
1-800-282-4975
402-502-7755
402-502-7756 fax
agriomaha@gmail.com